Family Traditions at St. Regis
The Family Traditions at St. Regis program is an experience beyond expectation. With captivating activities and thoughtful, welcoming attention that are tailored for younger guests and their families, each St. Regis hotel and resort is a destination of distinction that celebrates the art of play.
The St. Regis Macao, Cotai Central, is the ideal getaway for embracing the destination's rich Portuguese and Chinese heritage. Every moment becomes a treasure and every experience a new family tradition.
The pursuit of fun, redefined at the best address.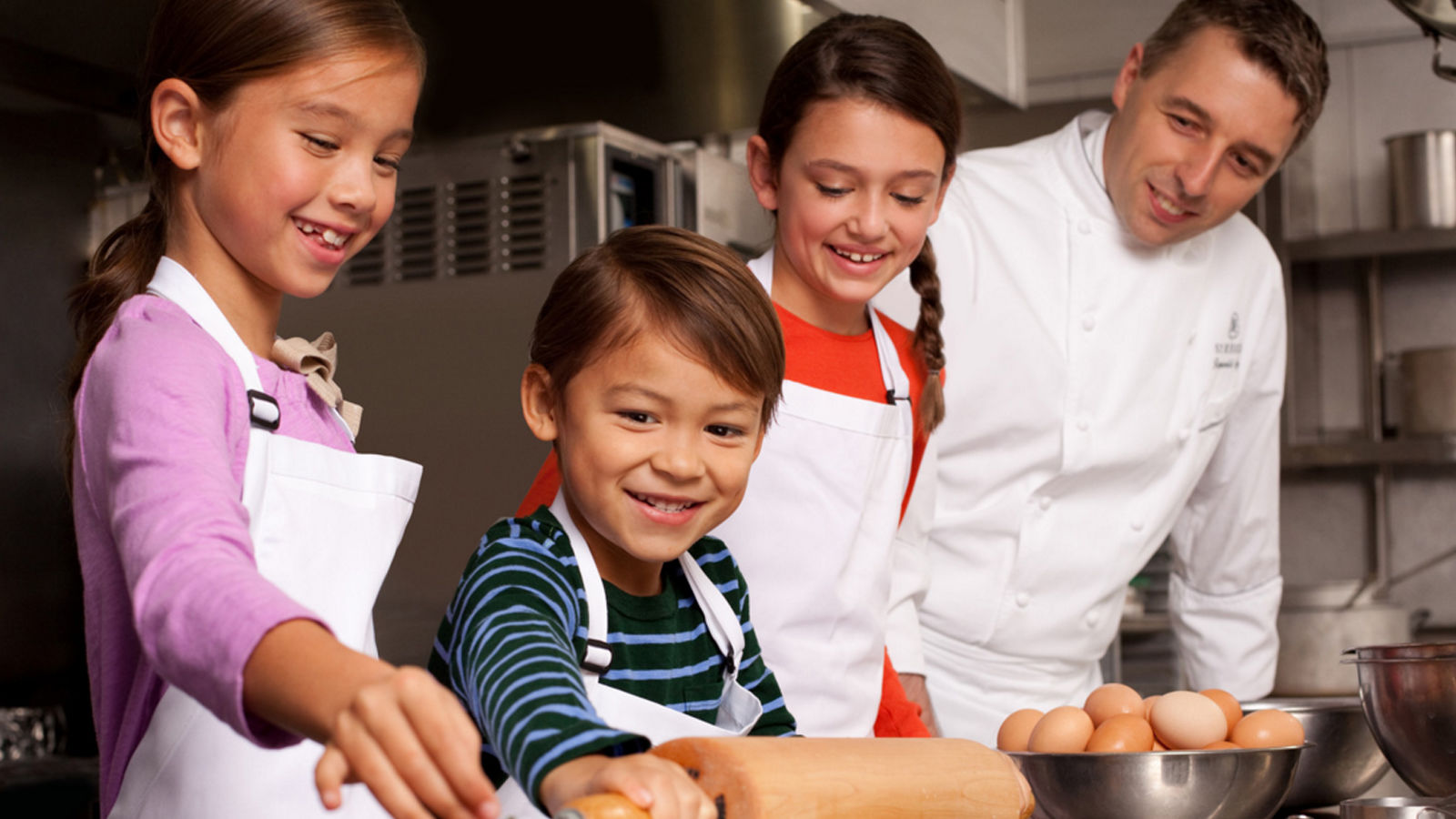 FAMILY EXPERIENCES
CULINARY JOURNEY
The St. Regis Macao is proud to offer and present authentic cooking experiences within the hotel's professional kitchens, which are conducted by chefs within their field of expertise.
Classes are designed for two or more, and include recipes from the St. Regis Kitchens, chef's aprons and chef toque.
During a typical class, the designated chef will guide guests through both demonstration and hands-on lessons. And when the dishes are completed, guests can sit back and enjoy the delectable results.
The choice of preferred culinary experience may determine the location of the class as it will relate to the specific equipment and remaining requirements. Please be advised and aware that classes will involve interaction within the hotel's operating kitchens.
Classes are priced at MOP1,288 per person including 3-course set lunch and are offered upon request.
Please make your reservations two (2) days in advance.
Please contact St. Regis Butler Service for assistance.
FAMILY EXPERIENCES
PHOTO TOUR
The St. Regis Macao presents this unique experience that combines adventure, exploration and creativity for truly memorable family traditions.
Your family will also be presented with a Polaroid camera and a Photo Album so your children can capture and keep all your favorite moments of the tour, as well as inscribe notes to create a personalized memento.
SUGGESTED LOCATIONS
Ruins of St. Pauls
A-Ma Temple
Taipa Houses Museum
Coloane Village (including a pit stop at Lord Stow's Bakery)
The Macao Photo Tour is priced at MOP2,988 for a maximum of 5 people and includes transportation, tour guide, photo album and photographs, a picnic box and egg tart tasting at Lord Stow's Bakery. Please make your reservations 24 hours in advance. The tour will take approximately 2 to 3 hours depending on traffic and time of day, and excursions are subject to availability.
Please contact St. Regis Butler Service for assistance.
FAMILY AMENITIES & SERVICES
RECREATION
The two swimming pools are open to children of all ages, and are perfect for family fun. Pool attendants are at hand to provide pool towels anytime, as well as refreshing fruit skewers and cool towels in the afternoons.
Opening hours from 7:00am to 8:00pm daily.
DINING
We recommend The Manor, which offers a casual setting and Private Dining, both of which serve delectable dishes from a choice of menus for all ages.
The Manor: 6:30am to 10:30am for breakfast, 12:00am to 3:00pm for lunch and 6:00pm to 11:00pm for dinner.
Private Dining: available in-room 24 hours a day by dialing Private Dining.
NANNY & BABYSITTING
Please contact St. Regis Butler Service to arrange for babysitting services, with 24 hours advance notice if possible.
NECESSITIES & PROVISIONS
We would be delighted to accommodate any request for family necessities, such as baby wipes, diapers, cribs and roll-away beds. For immediate assistance, please contact St. Regis Butler Service. St. Regis Butlers would be pleased to provide more details and to help make all arrangements. Please call St. Regis Butler Service at least 24 hours in advance to place your reservations.
LOCAL FAMILY ATTRACTIONS
Portuguese heritage meets Chinese culture in Macao, creating a fascinating kaleidoscope of inspirations. The St. Regis Macao, nestled in the vibrant Cotai Strip, is just a short drive to the city's most celebrated attractions that embody the history and culture of a UNESCO World Heritage site. Aside from the captivating historical landmarks, gastronomic indulgences abound at every corner in Macao, and visitors will be spoilt for choices with cuisine ranging from local specialties to European-inspired flavors.


CULTURE
Macao Museum
10:00am to 6:00pm. Closed on Mondays.
Macao Maritime Museum
10:00am to 6:00pm. Closed on Tuesdays.
Macao Science Center
10:00am to 6:00pm. Closed on Thursdays.
RECREATION
Macau Giant Panda Pavilion
10.00am to 1.00pm; 2.00pm to 5.00pm. Closed on Mondays.
Planet J at Sands Cotai Central
9:30am to 9:00pm daily.
To make reservations for any of the above special activities, or for more detailed information, please contact St. Regis Butler Service.
As a courtesy to our guests, this guide is meant merely as a recommendation for activities both on and off the property but is not inclusive of all recreational activities available. The hotel is not responsible for any injuries arising out of a guest's participation in any of the recommendations whether on or off property. Please use common sense for your own safety and security while participating in all activities.